Even more favorable measures for solar photovoltaic self-consumption from 2023
First of all, you should know that it is urgent not to wait to equip yourself with photovoltaic solar panels to put into practice the self-consumption within your home. 
Indeed, the price of electricity has increased significantly in recent years and continues to rise,
Despite the French government's introduction of a Tariff Shield at the end of 2021, this will cap the increase in electricity bills at 4%. But things change in 2023, it will be extended thereafter with a maximum price increase set at 15% for electricity from February 2023.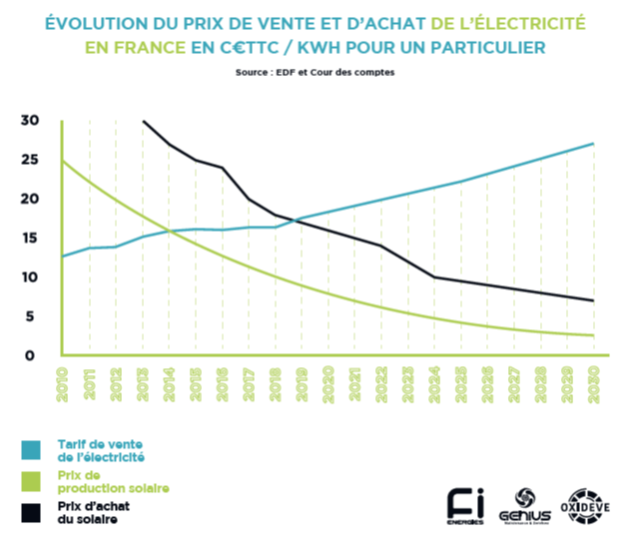 Here are the conditions to benefit from it the installation must be:
Installed on roof or facade only.
Carried out exclusively by an RGE certified professional with an electrical installation & approved by the Consuel.
With an installed capacity less than or equal to 100 kWp.
With self-consumption with sale of surplus production by EDF OA only.
At this time you can benefit from :
1 - The premium for self-consumptionor investment premium for solar self-consumption:
The amount of the premium depends on the power of the solar panels installed, we speak then about power-peak of your installation, that is the maximum power.
It is revised quarterly for new installations (the first quarter beginning in February of each year for this system).
The link of the official site to have all the scales, supported by :
Important Note: One of the big changes in 2023:
The premium initially paid over 5 years: 20% in the2nd year, - 20% in the3rd year .... and so on, up to 20% in the 6th year would be paid in one go from 2023 onwards! On the 1st anniversary of the installation. See the link above for the exact effective date and also the new scale which should be re-evaluated on February 1ᵉʳ, 2023
2 - The purchase obligation by EDF OA
The electricity injected into the grid benefits from a guaranteed tariff for 20 years.
EDF OA is committed (purchase obligation) It is an obligation to pay for each kilowatt-hour of solar energy that you feed into the grid.
La puissance installée doit être < ou égale à 500 kWc.
Choose for self-consumption with sale of surplus production or for total sale.

The feed-in tariff for your electricity production depends on the installed power of your solar photovoltaic installation, as well as on the choice between self-consumption and total sale. This re-evaluation is carried out every quarter, in the same way as the self-consumption premium.

The link to the official website: https://www.photovoltaique.info/fr/tarifs-dachat-et-autoconsommation/tarifs-dachat/arrete-tarifaire-en-vigueur/#conditions_dapplication

3 - The reduced VAT rate

The VAT rate is reduced to 10% for the installation of a photovoltaic plant with a power less than or equal to 3 kWp. Beyond 3 kWp, the VAT remains at 20%.



Request contact for your project