What are the financial aids for the production of solar electricity?
The premium for self-consumption photovoltaic
+ Resale surplus electricity produced :
Photovoltaic self-consumption is the consumption of one's own electricity production from solar energy. Installations that allow self-consumption (surplus sales installations) are eligible for an investment premium.

This premium is degressive and variable depending on the power of the installation. It is distributed over the first five years of operation.
Photovoltaic solar self-consumption, your vegetable energy in short circuit!
What changes in 2023! Why it becomes even more interesting than before!
Les principales raisons qui poussent encore plus à l'adoption de l'énergie solaire photovoltaïque :
– L'augmentation récente au 1er février 2023 de + 15% du tarif de l'électricité et aussi du gaz.
– Le relèvement du montant de la prime à l'investissement sur le solaire photovoltaïque des panneaux solaires installés. Exemple pour un 3 KW passée de 1 290 à 1 500 €uros
– La Prime ci-dessus sera versée en une seule fois au 1eranniversaire de l'installation au lieu d'être versée sur les 5 premières années
– Le relèvement du prix rachat de l'électricité en surplus que vous injectez sur le réseau bénéficie d'un tarif avantageux garantie pendant 20 ans. EDF OA (obligation d'achat); passé de 10 centimes €uros le Kiloawattà 13,13 centimes d'€uros le kilowatt, ce qui implique sur 20 ans un différence sensible, surtout avec les réindexassions envisagées(*) ; pour les installations dont la date de de raccordement a été réalisée après le 1er novembre 2022, le tarif est multiplié par un coefficient Knprenant en compte différents paramètres comme l'inflation (*)
– Le maintien d'une TVA réduite à 10 % pour les installation < 3 Kilowatt
– Certaines collectivités (villes, départements et régions) proposent nouvellement des aides financières aux particuliers qui passent à l'énergie solaire ! Se renseigner auprès des agences locales d'énergie ou auprès des collectivités directement.
* The increase represents +2.53% between September 1, 2022 and January 31, 2023, as the tariff rose from 10 cents per kWh to 12.53 cents per kWh. Between February 1, 2023 and April 31, 2023, this increase amounts to +4.8%, since the tariff goes from 12.53 cents per kWh to 13.13 cents.
(1)Premiums dedicated to the sale installation with injection of the surplus of installed power less than or equal to 9 kWp.
(2) Source: Tariff order dated February 8, 2023, amending the tariff order S21, published in the Official Gazette on February 17, 2023
(3) Source: Deliberation of the Commission de régulation de l'énergie of October 12, 2022 on the draft order amending the order of October 6, 2021
The 4 main financial advantages of self-consumption: the example for a 6KW.
Rates for the self-consumption premium
Self-consumption premium in euros per kWp* in force from 01/02/2023 to 30/04/2023
| POWER OF THE INSTALLATION | AMOUNT OF THE INSTALLATION BONUS |
| --- | --- |
| Less than or equal to 3 kWp | |
| | |
| | |
| | |
Example for 6 KWC installed, the premium will be 2200€.
(paid on the first anniversary of the plant)
Sale of the surplus contractually guaranteed by the State for 20 years: installation ≤ 36 KWC
At a rate of : 13,13 cents €/kWh, coefficient Kn evolving with the various parameters of the inflation.
The annual profitability of the photovoltaic power plant is expected to be around 2600€ per year, including energy savings of 50% to 70% in self-consumption and the resale of the surplus electricity produced.
The expected ROI (return on investment) will be on average 5.5 years for a house of about 120m² with 4 people. 
An installation guaranteed by a certified installer
Our partners in the offer

The increase in the price of electricity is unavoidable: self-consumption is the only concrete solution to counter the increase.
Electricity prices in France by 2030
According to the CRE, the Senate, the Court of Auditors and in reality

How to declare yourself an energy producer? 
A simple process helped and accompanied by our RGE certified installers
Producer's path for installations ≤ 6 kWp.
Your installation is eligible for the EDF purchase obligation?
Welcome !

Discover all the essential steps to obtain your purchase contract and establish your production invoices.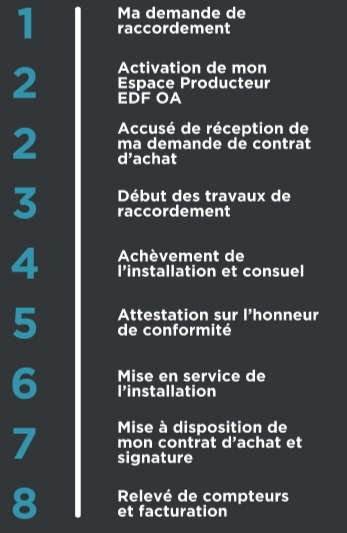 Discover the advantages
of self-consumption
State aid for self-consumption